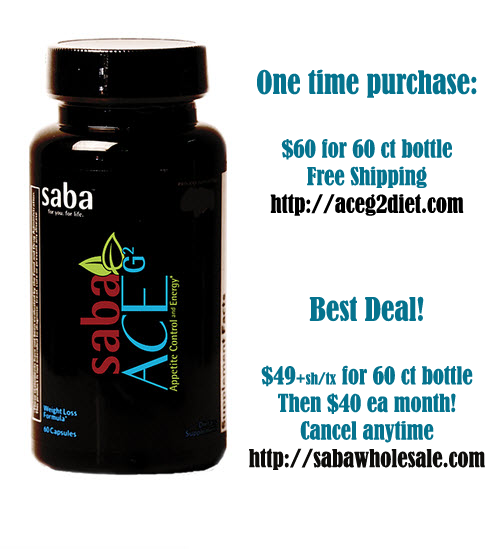 EXCITING NEWS!!
Our New Saba Ace G2 that was exclusively sold in the Saba 60 day weight loss program is now available for individual sale!
Get your Sample Packs or the 60 ct bottle with Free Shipping at http://aceg2diet.com
OR become a Preferred Customer for only $49 +sh/tx! http://sabawholesale.com
You will then receive the 60 ct bottle of Saba ACE G2 each month for only $40 +sh/tax! You will also be able to purchase any of the terrific Saba products at Wholesale Cost!
You can cancel your monthly order anytime with no fees or contracts, even before the first monthly order ships out! You can also move the date, skip a month if you need to or change the products in your monthly shipment, if you like!
I have lost 17 lbs (!!!) since I started taking it only a few weeks ago!
SO EXCITED for you to try it!!!
¸¸.**¨**♫